Since getting back on track, I have been trying to pack my meals with tons of veggies, and as much as I love roasted brussels and asparagus, it can get boring. So I have been experimenting in the kitchen. Before we get to the recipe at hand, I want to share what I have been eating to keep me on track for this WIAW.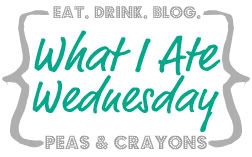 Breakfast:
Since, I haven't been training at Achieve anymore, my post workout breakfast has needed to change, but it hasn't. Less intense training means I don't need such an intense recovery meal. I have been sticking to oats, but have cut out the peanut butter. A friend suggested egg whites in my oatmeal, but I just can't seem to do it, so I have it on the side. In my oatmeal is slivered almonds. I plan on adding pistachios but don't have any on hand.
Lunch:
Lunch is usually a sweet potato, or half of one if it is particularly large, some green veggies, usually broccoli, and some sort of protein. The protein is usually grilled chicken, chicken sausage, fish (I prefer salmon and cod) or black bean burgers.
Snacks:
Fruit, I love watermelon, apples, and banana's. Sometimes I will make a green smoothie, or just have plain yogurt with a teaspoon of honey.
Dinner:
This is where I struggle, I always make a large salad with lots of raw veggies and a dressing of oil and balsamic vinegar, a small portion of protein, and then I have lots of veggies on the side. We love asparagus, broccoli, and brussels sprouts in our house, but I can only eat so many stalks of asparagus before I start to feel like one of em.
I don't want to get bored with my veggies, especially the ones I love the most. While food prepping this week I decided to get creative.
Ingredients:
1/4 cup Milk (I used Califia Farms Toasted Coconut Almond milk)
1/4 cup Greek Yogurt (I used 2% Fage)
1/2 Tablespoon Salt
3 Cloves of Garlic, finely chopped
3/4 lb Sweet Potatoes
1 lb Parsnips
1/2 lb Carrots
Instructions
1. Peel, Cube, and Prepare the Parsnips, Sweet Potatoes, and Carrots to your liking. I prefer to steam them, but you can boil them as well. You want them soft, but not falling apart.
2. Once your veggies are ready load your vitamix or blender with the ingredients in the order they are listed. Make sure that if your veggies are hot you leave the vent open on your blender.
3. Blend until smooth, make sure you taste and add salt and pepper if you need it. This makes about 6 servings, so it is also a great side dish for a dinner party!
For me this is a perfect side, it has a few of my favorite veggies, and I don't have to share with Nick, the crazy man hates sweet potatoes AND parsnips. I think next time I will try mashing it, but this was simple and easy, perfect.