As I mentioned before, I worked with Amanda for 2 months (more detailed post to come) on my nutrition
For this weeks WIAW, I thought I would share with you a little bit of what I have been eating.

I work out in the morning, so I try to get my post-workout carbs from Oatmeal. I mix it with almond milk, 1 scoop of Aria protein powder, and 1 spoonful of peanut butter & co (my favorite flavors are smooth, bee's knees, and might maple)

My snacks are either Amanda's protein muffin (with a scoop of pb) or a smoothie. This smoothie is 1 frozen banana, a handful of frozen peach slices, a handful of frozen mango chunks, 1 scoop of Aria protein powder and a handful of spinach.

Lots of salads. I ALWAYS have a salad with dinner, for dressing just balsamic vinegar and oil (straight from Greece holla). Usually leafy greens, tomatoes, green peppers, and cucumber, if I leftover roasted veggies I will throw that on top.
For some reason I have zero pictures of my lunches, really I think it is because once B goes down for a nap it's a mad dash to the kitchen to get lunch made so that I can eat and get whatever chores I need to get done before he wakes up.
My lunch is usually an omelet with 1 egg, 2 egg whites, spinach, roasted turkey and 1/2 slice of cheddar (except on wednesdays and fridays for Orthodox Lent). I top it with two tablespoons of peach mango salsa and 1/2 an avocado. Yum!

B enjoying yesterdays smoothie. He had frozen banana, raspberries, whole milk, and a handful of frozen mango. I made to much so some of it went down the drain, unfortunately.

My smoothie yesterday, not the prettiest, I will admit, but one of the best I have made thus far. Literally tasted like pb&j. It had frozen banana, frozen raspberries, 1 scoop Aria protein powder, 1 tablespoon peanut butter, a handful of spinach, and almond milk. It is amazing that I have never put peanut butter in a smoothie before, but this was the perfect post-workout treat. (I worked out twice that day ha)

Last nights dinner. Chicken sausage with sautéed spinach, roasted peppers and asparagus, and avocado.
Our dinners consist of salad, protein (salmon, chicken sausage, shredded chicken, hamburgers, etc…) and roasted veggies. My favorite veggies are brussels, yum!
What are your go-to clean eats?
Check out more meals at Jenn's link up for WIAW!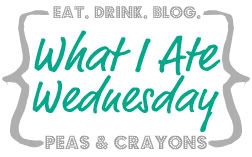 I posted the last Cadbury Creme Cupcake recipe yesterday as well!