Without fail every Christmas I ask for a cookbook/baking book for Christmas, and now that they are taking up more than one shelf on my bookcase (and it's a large bookcase) I decided I needed to start sharing my baking experiments with all of you. I have decided to call this the year of baking 2013. I am not going to copy and paste the recipes for this purpose but review the recipe and let you know of any changes that I made.
The first recipe that I tried was the Corn Muffins with Raspberry Jam from Joanne Chang's book Flour.
The Flour bakeries are in Boston and I actually went to one during a mini-mingle at the Healthy Living Summit this summer.
I love corn bread and corn muffins, but I prefer mine without jam, so I decided to omit that part of the recipe.
I have to say this, I love the fact that the recipe was true to the stated outcome, it really made 12 muffins.
pre-oven
So how did the match up to my extremely high cornbread standards? Personally, I thought they were a but dry, but I did omit the jam. Out of the 3 items I made that day, these were my least favorite, however they were B, Nick and my brother-in-law's favorites.
They were nice and crumbly and the top was nice and chewy while the bottom was softer. The corn flavor wasn't too strong and the muffins were nice and light they didn't have that heavy, brick in your stomach feeling after you ate it.
I'd say they were a huge hit with B. After a weekend of guests, we only have 4 muffins left, I would say they were a hit and I would definitely make them again!
I am sure some of you are asking how this fits into my goals, I am not eating tons of food, I take a bite to test the item and then I let my family and friends go to town and give me reviews. I love to bake, but I especially love to bake for others, it is therapeutic for me. It helps that I have two awesome taste-testers in house.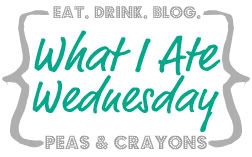 See other great eats on
Jenn's
blog for
WIAW