For this week's year of baking I have another birthday recipe from my sister-in-law's birthday.
The second recipe was a Red Velvet Cake from Flour, the recipe had the cake paired with a vanilla buttercream, but I love red velvet with cream cheese frosting, so I used the Flour recipe for that as well.
Again, I apologize for the quality of photos, I only had my iPhone that weekend so they aren't the best.
Ingredients
1.5 sticks unsalted butter, room temperature
2 1/4 cups sugar
3 eggs
2 egg yolks
3 3/4 cups cake flour
1.5 teaspoons baking powder
1.5 teaspoons baking soda
1.5 teaspoons kosher salt
1/2 cup Dutch-processed cocoa powder
3/4 cup nonfat buttermilk
3/4 cup creme fraiche
1/2 cup red food coloring
2 teaspoons vanilla
Instructions
Cake
1. Position rack in the center of the oven and heat to 350 degrees F
2. Butter and flour two 8-inch round cake pans
3. Cream together the butter and sugar for 2-3 minutes, or until light & fluffy (It will take longer if using a handheld mixer)
4. In a small bowl, whisk together the eggs and egg yolks until mixed
5. On low speed, slowly pour the eggs into the butter-sugar mixture
6. Mix until eggs are thoroughly incorporated
7. In a medium bowl, sift together the flour, baking powder, baking soda, salt, and cocoa powder
8. In a small bowl, whisk together the buttermilk, creme fraiche, food coloring, and vanilla just until combined
9. On the lowest speed, add about one-third of the flour mixture and mix just until combined
10. Immediately pour in about half of the buttermilk and continue to mix on the lowest speed until the buttermilk mixture is almost thoroughly incorporated
11. Stop and scrape the sides of the bowl and add half of the remaining flour mixture and the rest of the buttermilk mixture until just combined. Don't over mix
12. Remove bowl from mixer and add the rest of the flour mix using a spatula and folding the batter until the mixture is homogenous
13. Divide the batter evenly between the two cake pans
14. Bake for 50-55 minutes, or until the cakes spring back when pressed in the middle
15. Let cool completely in the pans on wire racks
16. The cakes can then be tightly wrapped in plastic wrap and stored in the freezer for up to 1 week. That at room temperature, still wrapped tightly in plastic wrap
Frosting
Ingredients
12 ounces cream cheese, left at room temperature for 4 hours
1/2 cup unsalted butter, room temperature
1 2/3 cups confectioners' sugar
Instructions
1. Put the cream cheese in the stand mixer and beat on medium speed for about one minute, or until smooth
2. Add the butter and continue to beat for another minute
3. Scrape the sides and add the confectioners' sugar
4. Beat for one more minute, or until well mixed
5. Cover the frosting and refrigerator for 2-3 hours before using, this allows it to firm up enough to pipe or spread
6. Frosting can be made up to 5 days in advance if store in an airtight container in the fridge
PHOTO
Notes
My cake ended up being kind of dry, I am not sure if it's because I left it out overnight or what. Next time I would definitely put them in the fridge the night before. The flavor of the cake was spot-on, so I will definitely be trying this again.
The frosting was delicious, nice and creamy and not too heavy. My only issue was that leaving it in the fridge overnight made it difficult to spread in the morning so I had to let it soften a tad that morning and rushed through my frosting job.
Overall, this was a good dessert and I want to try my hand at it again when I am not so rushed and I can perfect the dessert.
Check out other daily eats and treats with Jenn for WIAW!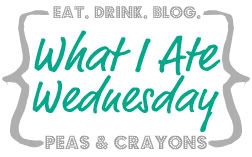 What's your favorite cake? Mine is definitely red velvet!