In case you missed it, I moved this weeks Year of Baking post to Tuesday!
I grew up on microwave meals and frozen food, so I am no stranger to how bad frozen meals can be for you. When I first started losing weight, I used weight watchers and it was 100 times easier to get the microwave meals then to figure out the points for meals I made at home. So I stopped doing all of that. I started eating clean and I felt better about myself and I was noticing change.
I admit though, all those home delivery services for diet meals piqued my interest. Were they good? Were they bad just like the above-mentioned microwave meals? Recently, I got the opportunity to try and review Diet-to-Go meals, I jumped on it. The meals and foods are things that I make at home, it is not processed junk like the ones that have Weight Watchers points at the supermarket. Plus, we are always on the go, lots of traveling, even during the day. We have swim lessons, music classes, play dates, errands, etc… This was a great opportunity to try something different.
So how does Diet-to-Go work? Diet-to-Go has 3 unique menus (vegetarian, low-fat, and low-carb) and 20 plans to choose from. I was able to choose from one of the 3 unique menus, so I chose low-carb. Customers are able to log in to their account and make substations, change their plan, and pause & re-start their plan. Sounds pretty easy right? So lets take a look at the food!
From L-R: Tomato Mushroom Omelet, Spinach Quiche, Egg Patty
Other meals: Pork Chop Breakfast (with Green Beans, Egg Patty and Cheese) and Cheese Omelet
Tomato Mushroom Omelet: The Omelet was okay, I didn't like that the cheese was a giant block so I took it out, otherwise the eggs were good. I don't like mushrooms, so I tasted the sauce, but I didn't like, it wasn't heave though so if you like mushrooms you probably will! The broccoli were a bit watery but still nice and crunchy and the sausage patty tasted like the ones you buy in the freezer section and had a bit of a kick, I did enjoy that.
Spinach Quiche: The quiche tasted great, there was lots of flavor and the spinach was not watery. I didn't eat the sausage because it is lent and I stupidly heated this one up before I realized. I did like the green beans too, they were nice and crisp.
Egg Patty: My meal plan said I was supposed to have scrambled eggs but this is what I got instead. The label said Egg Patty with Bacon and Vegetable, but it was actually canadian bacon and I am not usually a fan. The meal also came with creamed spinach and cauliflower. I put the canadian bacon on top of the patty and the spinach on top of that – like a little sandwich and it tasted great. I wish the spinach wasn't creamed, it was tasty but too much dairy for my liking.
From L-R: Baked Cajun Salmon, Beef Short Ribs, Baked Chicken with Goat Cheese
Other meals: Chicken Roma (stuffed chicken, vegetables and cheese) and Veal Parmesan (veal leg with tomato sauce and mozzarella)
Cajun Salmon: Hands down my favorite meal! It came with asparagus and broccoli, both of which tasted great. The sauce was a creamy sauce, I think it would have been great as just a rub. I felt like a lot of the low carb meals had a creamy component, but considering these are diet meals I felt like all the creamed items were a bit much. Also, I can't usually handle a ton of spice and this was fine for me.
Beef Short Ribs: Nick tried this one as I am not usually a ribs fan. It came with asparagus and sautéed peppers and a mushroom gravy. Nick said that the ribs tasted like a brisket, but they were very tender. The veggies were great, he couldn't tell that they were microwaved veggies. The sauce was tasty and a good consistency.
Baked Chicken with Goat Cheese: The chicken was stuffed with goat cheese and a spicy rub. It was delicious, the chicken was juicy, the stuffing was flavorful, but there was a lot of it. Again, the veggies tasted like I had just steamed them not heated them up. This was my second favorite.
From L-R: Spicy Chicken with Fajita Veggies, Turkey Meatloaf in Tomato Sauce
Other meals: Chicken Marsala, Prime Rib with red wine sauce, and Roasted Half of Chicken with Cauliflower Puree
Spicy Chicken with Fajita Veggies: This included brussels, broccoli, guacamole. The chicken was in strips mixed with peppers and was delicious, again a bit of spice but not overpowering. I loved the broccoli, I love brussels usually but these ended up tasting a bit rubbery. My only issue really was the guacamole. There were no directions to remove it from the tray before heating, although I should have followed my gut instinct to take it off. I heated it and it was no good.
Turkey Meatloaf in Tomato Sauce: The meatloaf was tender and had great flavor. There was the creamed spinach and green beans as well. The spinach, again tasty but a bit too creamy and the green beans were nice and crisp.
Roasted Half Chicken with Cauliflower Puree: This was the only meal I had a big issue with. I put this meal in the microwave for longer than the allotted amount and it was still very pink in the middle, I felt very uncomfortable eating it. So I tasted the outside, and this one was very peppery. The cauliflower was not pureed mine was very chunky and grainy.
Diet-to-Go is the most inexpensive fresh diet delivery service on the market and was recently rated #1 on Epicurious. So what do I think after a week's worth of Diet-to-Go?
This is a great program for someone who is very busy and wants to eat healthy but cannot find the time to get to the store or is in a place where ordering out/eating out is very commonplace. Diet-to-Go meals cost $17.02 per 1,000 calories where the average healthy food costs $18.16 per 1,000 calories. Each Diet-to-Go meal is about $6.81, that is a great price, comparable to take-out and fast food, and MUCH better for you.
I liked the majority of my meals, my only complaints are the creamy/cheesy components are a bit heavy and I wish all the packages had calorie counts. Some of mine did but not all. Again since these are diet meals, a lot of people track calories, sugar, sodium, etc… and I think that would be a useful tool. I was able to find some other meal information in Lose It! but I don't have any way of making sure it is accurate. The last part is that I wish they had more veggies, I included a salad with every lunch & dinner since the veggies weren't as plentiful as I would normally make for myself.
Would I buy this on my own? Definitely. It was convenient to use and the meals were delicious. I love making my own food, but as a mom, sometimes you just have those days and instead of ordering out I could just warm up one of these. You can heat them from frozen or let them thaw for 24 hours and heat them after they thaw out, super convenient. If you would like to try them yourself you can receive 20% off any meal plan with the code: fitfluential.
Fitfluential LLC compensated me for this Campaign. All opinions are my own.
For more weekly eats check out WIAW with Jenn!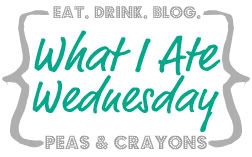 What do you think? Have you tried Diet-to-Go?