I was honored and excited to attend Taste of the Nation in Hartford almost two weeks ago now (sorry for the delay in posting, I needed a breather).
Taste of the Nation cost $75 for general admission and $125 for VIP, and those proceeds as well as those from the silent auction and wall of wine benefited local grantees to fight hunger in the Hartford area. Grantees included No Kid Hungry CT, Foodshare, Hartford Food System, and End Hunger Connecticut.
I was able to attend with Caitlin and Kaitlin and since Cait had a plus one she graciously brought my hubby.
Blend Love
Husband Love
Since the three of us were new to this (and the crowd was kind of overwhelming) we followed Cait's lead.
Points of note: Next time bring a large tote to stuff things in and bring water.
Caitlin usually tries the beverages first and then hits up the food. I tried that method but new early on that this method wouldn't work for me. My other tactic was to have one or two sips of each drink and one bite of each food item. This allowed me to try as many items as possible and if I loved something I indulged with no regrets, but if I disliked something, I didn't feel rude.
Our first stop was at Agave where we indulged in Margarita's which is appropriate since the first time Cait and I met in person we were celebrating meeting, obviously, and the fact that I just became a FitFluential Ambassador, with margaritas.
After we chatted for a bit, Nick, Kaitlin and I picked up this delicious treat. From Costa Del Sol – Chocolate Truffle with Caramelized Orange Crisps.

Hands down my favorite dessert of the entire night. The truffle was creamy and light while the crisps were not to hard and the flavors blended together wonderfully.
The next table had a bottle of Josh Cabernet Sauvignon, which Caitlin told me I had to try. It was the perfect pairing after the truffle dessert.
The next table had a gorgeous display, from Mystic Oyster Club
I have had two experiences with Oysters, one was amazing and one was terrible, I passed on the oysters this time but I will definitely visit next time we get together with our friends that live in Mystic.
The next table was amazing, it had a great line up of foods from Mill Restaurant Group, Kaitlin and I had this delicious Ahi Tuna on a wonton chip with corn salsa. One of my favorites, and of course I ate the whole dang thing.
Nick then tried both the following dishes:
It was cranberry bread with prosciutto and roasted duck (I think)
Chilled pea soup, you ate the cracker, which is topped with crab and then drank the soup out of the shooter.
Photos from Caitlin
Then Caitlin, Kaitlin, Nick and I all tried (separately) the Durigutti Reserva 2007 Malbec, one of my favorite wines of the night.
The next stop for Nick and I was Plan B Burger. I have actually been here once, a long time ago, and my sister-in-law, her husband and my brother-in-law have been before so I wanted to try. The burger was juicy and flavorful but nothing I haven't had before (although after looking at their menu there are other burgers I want to try). The real standout was the hot dog. It was a mini hot dog topped with chili, cheese and green onions, it was amazing.
I took a really awesome photo of Cait enjoying hers.

I'm lucky she loves me, ha!
We went and looked at the Silent Auction and bid on a signed UCONN 2012-2013 Women's autographed basketball. Sadly, we did not win it, the bids got pretty high towards the end.
After we digested for a bit we made our way into the next room. Our first stop was Thomas Hooker Brewing Company, Nick has actually been on the tour of the brewery for his good friends birthday, I however couldn't go because I was pregnant, so this was actually my first tasting.
I love a nice, light and fresh summer beer, and this fits the bill. Don't be surprised if you see one next to me in a month.

Of course these two had to get a picture with the Alaska Outlaw Whiskey. These two love their whiskey, and talk about it often. I love that they had it poured in their wine glasses, always classy.
The next stop was Joey Garlic's, my in-laws actually get pizza from here frequently, and it's okay (I prefer thick pizza) but these sandwiches changed my opinion completely.
Prime Rib on crusty bread with arugula and cheese. Delicious, the perfect bread to meat ratio and the Prime Rib was perfectly seasoned.
Rizzutto's was hands-down my favorite table of the night, in fact we went twice. No regrets.
That in fact is a steaming meatball on a crusty bun, it was delicious. The meatball was full of flavor and juicy, I also love the sauce wasn't super oily, which is my biggest issue with restaurant sauces.
Not only was the food delicious, but the 2 men running the table were super nice. I dragged Cait and Kaitlin back with us the second time since they didn't go to the table on their first round and they were starting to put their things away. Luckily we each snagged a meatball and Cait noticed a kitchen tub of some chocolate looking thing.

Peanut Butter, Banana, and Chocolate Cheesecake. They also had homemade marshmallow to go on top but we were all almost through our dessert and passed.
I went on to try Layer Cake Pinot Noir, I have always seen this wine but I hate spending money on new drinks because I fear I won't like it. Nick had the Shiraz but I wasn't a fan, I definitely preferred the Pinot Noir.
Our next stop was City Steam Brewery. I've actually had their beer before, and I enjoy it so I decided to dabble in a little tasting. I haven't had the Naughty Nurse before so I decided to try it. Side-note: check out their beer page, the have hilarious names like Czars & Girls.
It had a little bit of a bite, which was seemingly appropriate with the title, and I enjoyed the bittersweet finish.
I loved that they gave us beer cups, a lot of the liquors were being poured in the wine glass and I don't like mixing.
We ended up meeting up with ladies at our next stop, Cavey's. Cavey's is a unique restaurant because it has both an Italian side and a French side. They had food from both sides.

Smoked Trout on crispy bread. I've never had smoked trout before and this was amazing and the perfect bite.

Whipped ricotta and ratatouille. The combination was amazing, my only complaint? Not enough chip for the dish. It's okay Nick used some crusty bread to eat the rest of the dish.
Nick mentioned to us that he heard whisperings of a Lobster Burger, none of us heard anything, but lo and behold we wandered into the hallway on our way upstairs and we found a booth with an Edamame burger, a Veggie burg and you guessed it – a Lobster burger.

I tasted just the lobster, it was delicious. Not a lot of dressing and full of juicy pieces of lobster.

I had the edamame burger, I'll be honest it tasted a bit under seasoned, I think with a pinch of salt it could be amazing.
Caitlin then led us to Firebox, her friend Kat said it was a must try.

Fluke crudo
Nick's super picky about raw fish so he passed on this one, but I thought it was delicious, fresh and packed with flavor. They also had ONE of their drinks left. I forgot to write down exactly what was in it, but it had tequila and NO pre-made mixer, so it was a win.
After we walked around a bit we made our way upstairs to some of Caitlin's favorite hangouts. The first stop was Millwrights Tavern, a place I've been telling Nick we need to go to.

Chilled pea soup, smoked salmon rillettes, and shoots
They were literally picking the herbs from the plants (that they brought in) right there, talk about fresh. I loved the smoky flavor with cold soup, there were a ton of textures and flavors brought out and just reaffirmed that I need to visit them.
The bartender was making a drink, the aviation, and served it in cute little glasses. It was made with gin, creme de violette, and citrus. It was a bit strong considering I was driving home soon, so I had one sip and passed it back, but I can see myself enjoying one of these in their bar.
The next stop was a place that I have been meaning to go to forever, Barcelona Wine Bar & Restaurant

Whipped Goat Cheese, Pistachio, Smoked Paprika, Tuna and Tomato
I wish this had been a one bite type of thing because there was so much food, I couldn't try it all together. It was delicious, and now I am planning a visit so Caitlin and I can go to one of their wine dinners!

They also had some type of sangria, it was light and fresh and didn't taste like it had any fake syrupy mixes, and that's because it doesn't!
While Caitlin was chatting with her friends, Kaitlin, Nick and I headed to Black Bamboo which is a Chinese Restaurant in West Hartford.

Spring Roll and Vegan BBQ Boneless Ribs
Sorry for the poor quality photo it was DARK in some of the areas upstairs. I contemplated not telling Nick that the ribs were vegan, he is a MEAT guy, but I did because I'm a nice wife. He decided to try them anyway.
We all agreed that we could have been fooled, the sauce was seemingly identical to boneless ribs you'd get anywhere, the only thing that was a bit off was the texture. Honestly, I preferred these to "real" boneless ribs, because the meat is usually stringy and tough.
The spring roll was also delicious, it wasn't greasy and it was packed with veggies. I think I found a new favorite chinese restaurant!
My last beverage was from Grants!

Wild Hibiscus Punch: Avion Silver Tequila, Hibiscus & Ginger Liqueur, Cilantro Syrup, Fresh Grapefruit juice, and Rhubarb bitters
It was a bit too spicy for me, honestly I think it would be awesome without the ginger and cilantro, but I am not a bartender. The bartender also gave me advice to find the best cupcakes in the area!
We also hit up the sushi at Feng Ginza Group while upstairs, but that booth was packed so I didn't get a picture. I've actually been to Ginza a bunch of times. I got to Nick to get out of his comfort zone and try sushi that had slices of fish on top of the roll and he liked it!
Our last dinner stop was Tisane Euro Asian Cafe
They had a delicious steak with noodles and veggies
And the cutest presentation. I am not usually a fan of asian style noodles but these didn't have a ton of sauce and the beef was cooked to perfection.
Our last food stop was cupcakes, obviously. We went to Frosted Couture Cupcakes
Look how nicely they matched my outfit
I'll be honest, they weren't anything out of the ordinary, the frosting was decent and the cake was a bit dry.
Our very last stop was the Wall of Wine
For $10 you could pick any bottle and and all bottles were priced at $10-$50 and all bottles were donated.

Rinaldone dell'Osa, Morellino di Scansano
A tuscan wine that has notes of berries and anise. I am not sure I will like it (I don't typically like anise flavors) but it was all for a good cause!
I was given the opportunity to visit Hartford's Taste of the Nation event, but I would gladly pay the $75 General Admission ticket price, we are even contemplating going to the New Haven event.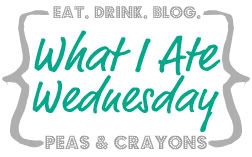 Join
Jenn's
link-up and see other delicious eat's from around the blogging world.
Have you ever been to an event like this?
What do you think your favorite food and drink would be?