After fasting and Greek Easter and a birthday/mother's day weekend, I feel like I am 100% back on track again!
I've been back to my post-workout Oats with Designer Whey protein powder!

pre-mixing
I accompany that with some water and coffee!
For lunches I always have some leftover roasted veggies, or recently, sautéed spinach with a turkey burger, egg, avocado and roasted broccoli!

I wolfed down the broccoli before I took the pic, whoops.
I've also had hard-boiled eggs at the ready and sliced fruit for snacking.
Before I got back to my clean eats, I made a poundcake for Greek Easter, from the Joy the Baker cookbook – Cream Cheese Poundcake!
Ingredients
2 cups all-purpose flour
1.5 tsp baking powder
1/2 tsp salt
1 (8-ounce) package cream cheese, softened
1.5 sticks unsalted butter, softened
1.5 cups granulated sugar
2 tsp vanilla extract
4 large eggs
Instructions
1. Preheat oven at 325F, making sure a rack is in the center
2. Grease and flour a 9×5 inch loaf pan for later
3. In a medium bowl, whisk together the flour, baking powder and salt and set aside
4. Beat cream cheese until soft and pliable
5. Add butter and sugar and beat until fluffy, approximately 3 minutes
6. Add the vanilla and stir until blended, then beat in the eggs one at a time, beating at medium for 1 minute each
7. With the mixer on low, slowly add in the flour mixture and beat until just incorporated
8. Stop your mixer at that point and fold together the batter with a spatula
9. Spoon into your prepared pan
10. Bake for 30 minutes. After that, rotate the cake, and if it's browning too quickly, move to an upper rack (I did not have this problem)
11. Bake for another 30-35 minutes until a toothpick inserted into the center comes out clean
12. Let the cake cool in the pan for 20 minutes, then transfer onto a wire rack to cool completely.
It should last for up to 4 days at room temperature, well wrapped.
Notes
I LOVED this recipe. I needed something easy and simple to pull together for Easter and this fit the bill.
While we didn't eat a ton of it at Easter, Nick and I took it home, I popped it in tupperware and put it in the fridge, and it is even more delicious a little chilled, my favorite is a small slice topped with Dark Chocolate Dreams from PB&Co.
Nick also might have stuffed a piece in his mouth when he came home starving after a night out, might have.
I definitely plan on making this again, I think it would be a great base for summer strawberry shortcakes!
Check out more recipes and daily eats at Jenn's link up for WIAW!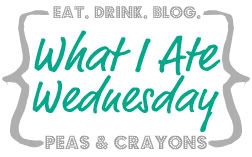 Do you like pound cake? What's your favorite summer dessert?