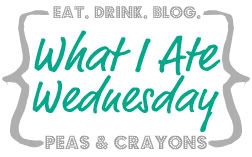 I will updated the stats this afternoon since B's 9 month appointment is in a few hours! But until then here are a few photos from our monthly photo shoot.
I also have a food tutorial after the photos.
a little smile
I know that he has some drool here but I just love his expression
this is about as far as we've gotten crawling wise
and this right here is how I know this kid is going to be trouble, ha
First, how to make your own baby food.
I know a lot of people have the baby bullet, but I have the baby brezza. My MIL has the bullet and I just prefer the brezza, it makes a large quantity of food, if I had the bullet I would have to make his meals daily.
Our first one, the motor burned out, I called the customer service and they sent us a new one. We didn't have to send the old one back, another plus for the brezza.
If I make a meat for B, I usually make enough for all 3 of us in the crockpot (i.e. pulled chicken) or I make a small amount in a pot. I bring the meat to a boil and then simmer for one hour. Then I add the hard root veggies like carrots and potatoes for another hour.
While I was making the chicken, I put a bag of frozen green beans in the brezza. Another great feature is that you can steam and blend, just steam or just blend. You can steam anywhere from 10 minutes to 30 minutes.
Since the beans were still frozen, I steamed the beans for 15 minutes then had the machine auto blend.
Then I steamed and blended a bag of frozen corn. I layered the food in to go containers. I make one weeks worth of dinner and breakfast at one time, usually Sunday evenings.
Once the chicken (and veggies if they are being used) I had the chicken to the brezza and just blend, I do not steam. I add the chicken to the rest of the meal. I put all 7 containers in the fridge, and at dinner I just microwave for 15 seconds, stir and serve.

someone's excited
I do the same for B's breakfast. I usually do 2-3 different types of fruit. Although since we are moving into primarily table foods now, I don't know how much longer I will be doing the food. I will probably just use the steam feature for items like carrots, potatoes and apples.
Here are some other foods that B loves:

he loves waffles
yogurt
pear and banana