Back in May I was given the opportunity to try a handful of Designer Whey's products, I had a great experience. So when I found out I would be able to try the new product line of products, through my relationship with FitFluential, I jumped at the chance.
Designer Whey has created a new blend of protein powders, in Chocolate Velvet and Vanilla Bean. This is DW's Sustained Energy line. This product is a blended powder, it has whey, soy and casein. The whey digest quickly to fill you up and the soy and caseins absorb slowly, which helps you stat energized for hours. Each scoop is 100 calories, has 5 grams of fiber, and 16 grams of protein. So how did these products fare in my kitchen?
I'd say that Designer Whey knocked it out of the park again.
The first smoothie I made was one of my favorites
1 cup unsweetened Almond Milk
1 handful of Spinach
1 scoop of Designer Whey Sustained Energy: Chocolate Velvet
1 Tablespoon of Natural Peanut Butter
1/2 frozen banana
1/2 cup frozen raspberries
I absolutely loved the chocolate flavor, it gave the smoothie a nice smooth and creamy consistency! So far so good.
Next up was the everyday oatmeal test. I always use some sort of vanilla flavor in my oatmeal and the Vanilla Bean was my choice.
I am so glad I had this. The flavor was great with the oatmeal and really thickened up my daily oatmeal. The day I tried this I then proceeded to lock myself out of the house with B. I had to wait until Nick could get a break at work to come home and let me back in the house. Of course all of this was during this ridiculous heat wave we have been having.
Normally, I would be ready to eat my arm at this point and feeling really low, but surprisingly I was feeling good. A+ Designer Whey.
With the powders, I received a copy of the June issue of Shape Magazine. Inside the magazine was a recipe for a Tropical Tone Up Smoothie.
1/2 cup skim milk (I swapped out for unsweetened Almond)
1 scoop Designer Whey Sustained Energy Vanilla Bean
1/2 banana
1/2 cup pineapple (I used frozen)
pinch of cinnamon
1 cup of ice (I substituted with 1/2 cup frozen peaches)
It was so good even B wanted some (I made his without protein powder though)
I love the new products from Designer Whey, its official. I have had some really bad protein powders, and Designer Whey keeps me happy with every powder they have.
Now onto the rest of WIAW!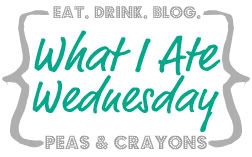 I haven't been eating just oatmeal, smoothies, and
cake
!

This salad has been a staple around here. I love summer mostly because I gorge on tomatoes and watermelon.

My go-to lunch has also been grilled chicken and roasted veggies!
Have you tried the new Designer Whey products? What are your summer staples?