Growing up Catholic I never really though too much about other religious sects within Christianity. I didn't know any Orthodox Christians and I didn't know a ton about how things were different. Fast forward to college, not only is Nick's family Greek Orthodox, but we had friends that were Orthodox as well (Russian, Serbian, etc…)
There is definitely a lot to learn about Orthodox Christianity, and I think I understand most of the basics, but one of the areas that is vastly different is Lent. For Catholics, the more public aspect of Lent is mostly about giving up one thing for the duration as a sacrifice. For Orthodox Christians you fast during Lent, not a fast like no eating or drinking, how you usually associate the word fast.
Keeping it just about the food for WIAW, you fast every Wednesday and Friday. Everyone I know does fasting a little bit different, but for the most part you don't consume meat or dairy, this also means no eggs or seafood with a bloodline. There are obviously exceptions, pregnant women, children, women who are breastfeeding, etc…
I thought I would share with you some recipes and ideas that follow those guidelines. Recipes that I've tried, recipes that friends and family members have tried. If you have any you would like to share please link them below.
Breakfast
For my morning coffee I tend to use almond milk or coconut milk and I use almond milk in my oatmeal. Obviously you can use soy milk as well, but for me personally, I prefer almond or coconut.  Vegan butter can be used as a replacement for regular butter. Personally, I find breakfast to be the hardest meal to keep dairy free, so many breakfast foods have some sort of dairy/meat component, the one that always slips my mind is eggs.
Mindy's Banana Bread Muffins
 Iowa Girl Eats Immitation Starbucks Oatmeal – like she did, I would use almond milk instead of dairy
Kammie's Slow Cooker Apple Pie Steel Cut Oats
Lunch and Dinner
In previous years, I have lived on peanut butter & jelly sandwiches and pasta. Not exactly healthy, but I didn't know nearly as much about cooking as I do now. Now, I have more carbs than I do most weeks of the year, but I try to keep it to things like quinoa and brown rice. I try to load up on lots of veggies and to make sure I find a way to get protein. My favorite family recipes are spinach and rice or lentils. Both recipes I need to write up and share with you. I tend to eat the same stuff for lunch and dinner because it is easier then prepping four different meat & dairy free meals for each of us. Try some of the recipes below if you are fasting this Lent.
Thug Kitchen's Basmati Stuffed Grilled Peppers, I prefer tomatoes to peppers and might even leave out the rice.
Laura from Mommy Run Fast has a ton of great recipes but here are some highlights: Quinoa Minestrone, Soba Noodles with Roasted Red Pepper Sauce and Tofu, and Crockpot Black Beans.
Wildly Fit's Lentil Stew – lentils are such a great way to get protein!
Two Peas & Their Pod's Black Bean and Enchilada Quinoa Bake – this is a family favorite. You can either use vegan cheese or just omit the cheese altogether. It also makes A TON of servings, you can make a whole pan and freeze some so you can take out the servings you need instead of eating it all week.
Burgers – There are a ton of black bean burger recipes out there for you to make the following ones are ones that either I or my family members have made and loved. Maria's Spicy Black Bean Burger – just omit the cream sauce and Girls Gone Sporty's Spicy Buffalo Black Bean & Quinoa Burger with Vegan Blue Cheese Sauce. You can also try a Greek Veggie Burger or an unfried Falafel Burger.
Still want pasta, but want something to add to it? Try these quinoa meatless meatballs!
Try slow cooker Curried Vegetable and Chickpea Stew
And if you need something sweet at the end of the day? Try these Crockpot Baked Apples!
Find more recipes at Jenn's WIAW Linkup!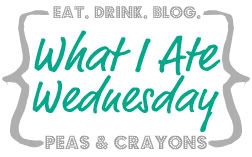 What are your favorite meat and dairy free recipes?