As anyone in a relationship or marriage knows planning holidays in order to spend time with all family and friends can be very…trying to say the least. Nick and I were spending Christmas with his family and in order to have a special celebration with my parents and sister, I planned a dinner at our house the weekend before Christmas.

I think we need a train around our Christmas tree…
Menu planning can be a bit tricky though, my sister's boyfriend has two allergies: all nuts and poultry. The poultry one means that your usual Christmas dinner ideas (chicken or turkey) or using any sort of chicken stock is out of the question. For me that was actually a good thing, I've never cooked a chicken or turkey by myself and I didn't want to have to do it for the first time for 12 people or for a holiday.
I went with my family's standard holiday favorite: Meatloaf. I used grass-fed beef and doubled this recipe. It is very east to make and the meat was still nice and juicy, I love the flavor that the glaze adds, but you could easily leave it off.
I ended up going with a couple of carb-filled sides. All of these ideas I had pinned to my pinterest boards for a while, and I needed to try them. This was the perfect place.
The first was a new-to-me risotto. I tried an asparagus and spring pea risotto last Easter. I decided to try one that was a bit more hearty for Christmas. I went with Kerstin's French Onion Risotto. I doubled the recipe and I used swiss cheese instead fontina, mostly because the cost of the fontina was way more than I was willing to spend. This dish was a lot of the guests favorite side dish of the night. I liked it, but it was heavy for a risotto, and that coupled with a few other heavy dishes didn't make it my favorite, but I would make it again!
The second was this lighter buffalo chicken mac & cheese. Obviously, I did not use chicken, I used ground pork, because the flavor profiles are most similar to chicken and because we already had plenty of ground beef with the meatloaf. I doubled this recipe and it turned out wonderfully, again it was a heavier dish, but I loved it and I wish I had some right now!
The third recipe is the creamy corn pudding with crispy onions and herbs. Ever since my date with Caitlin at Agave Grill I have been wanting to try my hand at making a type of corn pudding. This dish surpassed all of my expectations and I can't wait to make it again. I left the herbs off the top, mostly because I forgot, but to me it didn't make a difference. The pudding had that sweet and savory taste I was looking for without being overly heavy.
I also had a large salad and roasted brussel sprouts on the side… we needed some green up in here.
For dessert we had the classic christmas cookie (at least in my house), the snickerdoodle, and I tried my hand at Baked by Rachel's mini cookies & cream cheesecakes. The flavor was on point, but for some reason they didn't bake up like Rachel's did. All that matters is that they tasted good!
Make sure that you check out all the other great food recipes and ideas on Jenn's blog for WIAW!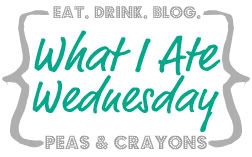 I apologize for the lack of pictures, it was my first time hosting & cooking 90% of the food (thanks mom for making sure the risotto made it from the recipe to the table) and I was a bit crazy and running late so pictures just didn't happen. I hope you try some of these recipes, I fully endorse them all!
What are your favorite successful recipes from Pinterest?