I am linking up with Shannon for another round up of So What! Wednesday.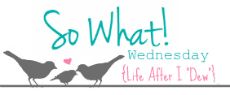 This week I am saying so what if…
❊ I threw out B's extra leftover cake, I'll thank myself later.
❊ I cried while making B's one year recap video.
❊ I am looking forward to spending time at home, it feels like it's been forever since I have spent an entire 7 day week here.
❊ I bought the husband a birthday gift, and then felt guilty about spending the money.
❊ I got over it. It's an amazing gift.
❊ I put my baby in muscle shirts in the heat, he looks adorable.
What are you saying So What! to this week?